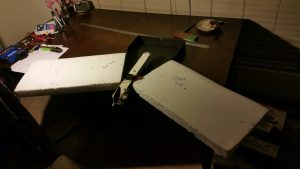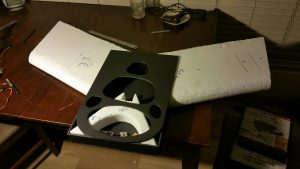 I wanted to put the head tracker in some thing. Gemot would only just allow for the head tracker in it and it only had 35mm maximum air flow distortion (i.e. the thickness of the centre foil). The EPS sheets I've been buying are 50mm thick which is plenty of air distortion to create heaps of lift. This wing above will also have the fuselage as part of the lifting surface. It will be the same proportions as the wings. Thus making it about 70ish mm thick.
It's about the same wingspan as Gemot coming it at just a touch over a metre. I've learnt that the little 0.25N torque servos (2.5kg/cm) are straining on almost everything when the wing span is over a metre.
This wing also allows for the GRP (Glass Reinforced Plastic) chassis to be pushed inside to convert it to powered flight later. It can be tested gliding and then step across to powered later by sliding in the engine. The V- shaped EPS frame inside should spread the load on impacts with the ground during testing.
About the head tracker. The HMC5883L chip arrived in the post on Friday and I couldn't wait. Put it together that night. Added the chip into the I2C bus, Added Dennis Frie's code and away it went. It worked through the Turnigy i10 using the trainer cable and a 10channel RX.