Description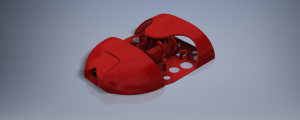 Download link will appear after the product is paid for. If there are any issues, please contact us.
Product : Temarai
Version code name : Eam
Version # : 20190831_1205
Two axis gimbal optimised for slope soaring, (Pitch and yaw only).
Made by an RC flyer for RC flyers. Designed for fast maintenance on the slope with a minimum of tools and parts.
Tested with the opensource head tracking unit from Dennis Frie on RCgroups
Features:
1) Low profile to be more aerodynamic.
2) Nose mounted so you can look directly down at the cliff edge, thus staying in the uplift zones.
3) All mount points and connections are using standard parts or easy to acquire items
4) Australian designed.
5) Standard 316 stainless M3 bolts and nylocs,
6) 2mm galvanised wire push-rods (replacement wire available from most hardware stores)
7) Common servos. Currently designed to use:
a) Corona 939MG Digital Metal Gear Servo 2.7kg / 0.13sec / 12.5g
HobbyKing SKU: DS939MG
b) Hextronik MG-14 Digital Aircraft Servo 23T 2.6kg / 0.11sec / 14g
HobbyKing SKU: MG14
8) Standard rubber bands at main connection point to lengthen the impulse time in heavy landings and
as an easily accessible replacement part.
9) Duct tape connection to outer shell for even load distribution.
10) Brass linkage stopper for 2mm push rods:
HobbyKing SKU: 450001025-0
11) Suits RunCam Eagle Pro II.
Included parts:
1) All the files you need to print the gimbal.
Parts not included:
1) 2 * Servos (as per above specification)
2) RunCam Eagle Pro II FPV camera.
3) TX
4) RX
5) Head tracker sensor system.
6) FPV goggles
7) Vehicle modified to accept gimbal.
8) 3 * 2mm brass linkage stoppers
9) 6 linkage stopper washers
10) 3 linkage stopper nuts
11) Nut and bolt set 01
12) 3 * push rods (1.8mm galv)
13) Batteries.
14) Duct tape